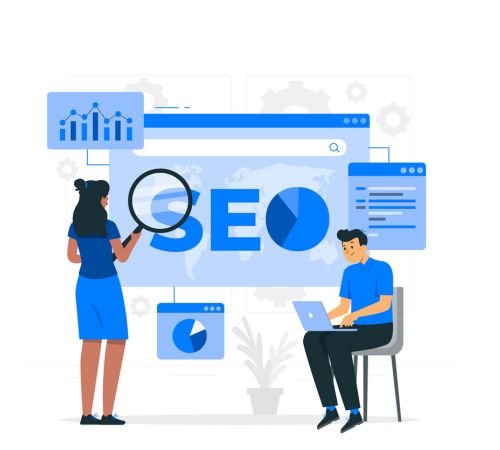 Search Engine Optimization(SEO)
On order to increase a website's visibility on search engine results pages, SEO entails optimising its content and architecture. By focusing on relevant keywords and enhancing the website's authority, the objective is to enhance organic (non-paid) traffic.
Organically Boosts Your Website Traffic!
Remember, SEO is an ongoing process, and it takes time to see results. It requires continuous monitoring, analysis, and adaptation to changes in search engine algorithms and user behavior.
Search Engine Optimization Activities

Keyword Research
Identify relevant keywords and phrases that your target audience is likely to search for. Use keyword research tools to find high-volume, low-competition keywords.

On-Page Optimization
Optimize your website's content and structure to make it search engine-friendly. This includes optimizing meta tags (title tags, meta descriptions), headers, URL structure, and incorporating keywords naturally into your content.

Technical SEO
Ensure that your website has proper crawling and indexing capabilities. Improve website speed, mobile-friendliness, and fix any technical issues that may hinder search engine bots from accessing and understanding your site.

Content Creation
Develop high-quality, informative, and engaging content that aligns with your target audience's search intent. Create content that answers their questions, provides value, and encourages sharing and backlinking.

Link Building
Earn high-quality backlinks from reputable websites. This can be achieved through guest posting, influencer outreach, content promotion, and creating shareable content that naturally attracts links.

Local SEO (if applicable)
If you have a physical business location, optimize your website for local search by claiming and optimizing your Google My Business listing, obtaining online reviews, and ensuring consistency of NAP (Name, Address, Phone) information across directories.

User Experience Optimization
Enhance user experience by improving website navigation, reducing page load times, and ensuring mobile responsiveness. Positive user experiences can lead to increased engagement and better search engine rankings.

Monitoring and Analysis
Regularly monitor your website's performance using web analytics tools. Track keyword rankings, organic traffic, user behavior, and conversion metrics. Use this data to identify areas for improvement and adjust your SEO strategy accordingly.